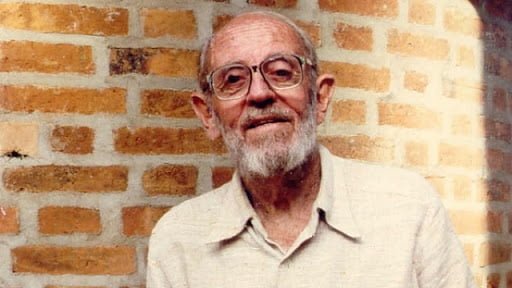 2nd March 1917 – 1st April 2007
Laurie Baker was also known as the 'Gandhi of architecture' or 'Brick master of Kerala'
"I don't think I've ever been inspired by what other architects have doe but more by what ordinary craftsmen have created" – Laurie Baker
Baker was a British born Indian architect
He came to India in 1945 in part as a missionary and since then lived and worked in India for over 50 years
He obtained Indian citizenship in 1989 and resided in Thiruvananthapuram (Trivandrum), Kerala
Was awarded with Padma Shri Award, in 1990
AWARDS & RECOGNITION
His respect for nature led him to let the idiosyncrasies of a site inform his architectural improvisations, rarely is a topography line marred or a tree uprooted
"There is an old saying – Manners maketh the man. I think they also make good architecture" – Laurie Baker
Baker created a cooling system by placing a high, latticed, brick wall near a pond that uses air pressure differences to draw cool air through the building
His responsiveness to never identical site conditions quite obviously allowed for the variegation that permeates his work
"My feeling as an architect is that you are not after all trying to put a monument which will be remembered as a 'Laurie Baker Building' but Mohan Singh's house where he can live happily with his family" – Laurie Baker
Cost effective construction techniques used by Baker –

Vents
Water tanks for storing rain water

"It was from the influence of Mahatma Gandhi, I learned that the real people you should be building for, and who are in need are 'Ordinary' people – those living in villages and in the congested areas of our cities" – Laurie Baker
Baker was often seen rummaging through salvage heaps looking for suitable building materials. doors and window frames
Architecture Styles of Baker –

Cost conscious construction
High quality, beautiful homes
Suited to or built for lower-middle to lower class clients
Irregular, pyramid-like structure on roofs, with one side left open and tilting into the wind
Brick jali walls, a perforated brick screen which utilizes natural air movement to cool the home's interior and create intricate pattern of light and shadow
Understanding regional conditions
Traditional Indian sloping roofs and terracotta Mangalore tile shingling with gables and vents allowing rising hot air to escapes
Curved walls to enclose more volume at lower material cost than straight walls
Improvisation

"Bricks to me are like faces. All of them are made of burnt mud, but they vary slightly in shape and color. I think these small variations give tremendous character to the wall of thousands of bricks, so I never dream of covering such a unique texture of brick, of stone, of concrete, of wood" – Laurie Baker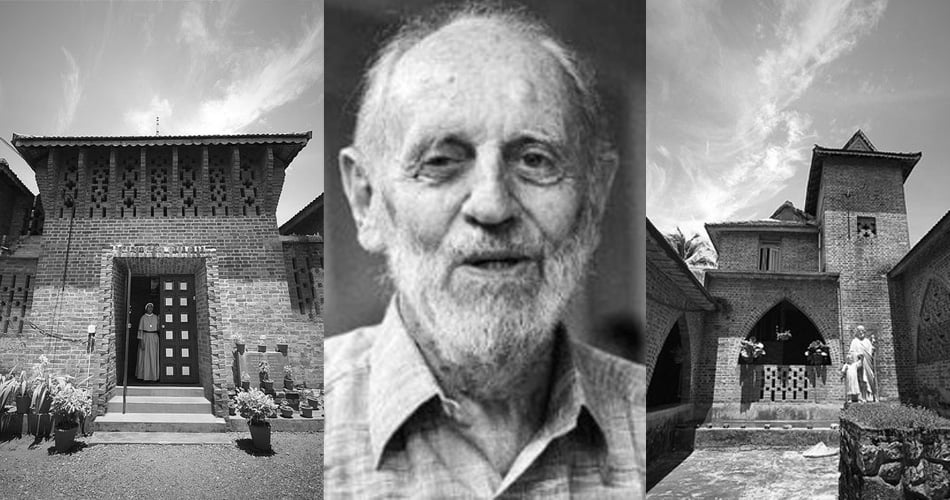 Click on the various links provided, while you go through this article, to have an even more detailed study
THE HAMLET

Laurie Baker's residence
1970
Trivandrum
Located on a steep mountain slope
Cost effective building
Reflects his ideologies and techniques through the volume of space under curvilinear exposed bricks
Heat reducing Mangalore tile pitched roof
Jali brick wall
Timber windows shed light on the natural timber furniture crowning the volume
Simple yet beautiful windows
Planning of the residence mainly involved the usage of materials that would usually be neglected as construction waste
The entire volume is a balanced juxtaposition of materials from various sources
Entrance had a rich artistic display made from broken stones, pottery pieces, glass, etc accompanied by traditional Indian bell making entry
Furnitures of living room are made of timber from an old boat jetty
There is an inner courtyard
Use of Corbelled arches for openings avoids the usage of RCC lintels, thus reducing building cost
Integrated furniture further adds to the cost effectiveness
Natural landscape around the built environment was left unaltered, with construction done around the existing landscape
Greenery and the natural materials give a blend that made any human entering the space to experience a recognizable shift in temperature between the outdoors and the indoors
Sitting on the hilltop with the entrance steps carved out its rock surface and building envelope with natural materials, Hamlet appears to have 'Grown out of Earth'
It represents the ' Simple way of living' that Baker pursued both in his life and his architecture style
In the initial phase, Baker built a single room circular hut of timber, which consisted library of medical books, bedroom, living room, drawing room and study. Later alterations were made
Courtyard has many gardens and ponds
Entrance has small sitting for guests
Gables for air circulation and ventilation
Grills made of bits and pieces
Water tank for storing rain water
Unique doghouse at the top of the entrance gate – with well placed jali to let the morning light filter in
The entrance gate was made from two traditional old Kerala doors when an old building was torn down which Baker bought and jointed together to create the unique door – which has door bell and newspaper holding pocket too
INDIAN COFFEE HOUSE

1958
Trivandrum
Neo-Vernacular architecture
According to Baker it was meant to be like a café between the two Railway and Bus stations, something similar to fast food restaurants where foods are offered for quick eats or takeaways
After its opening it was converted into a restaurant, considering the cultural setting
The building was planned on a relatively small urban site, and the walls were curved to fulfill the programmatic requirements within the given space
Shaped like a spiral, the flooring winds its way around a central core like a ramp
To maintain the proportion and the stability of the building, the ramp gets smaller as it goes to the top, forming an imperfect but balanced cylinder
The curved exterior walls are all perforated with Jali patterns which add an aesthetic quality in addition to their actual function, to provide natural day-lighting and ventilation
The absence of windows and the patterned red walls give the building a sculptural quality, only emphasized through its location
The eating spaces are inbuilt with the space on the outer side of the ramp as repeated modules
Built on a horizontal platform, these modules rise in height with the ramp and cover the entirety of it. This allows for optimum usage of space and the maximum number of seating is provided.
Bricks are used to build the load-bearing walls that curve to form the structure. They retain their original color on the exterior but are painted white on the interior
Concrete slabs are fitted in the walls as tables which are supported by a brick arch at the end that is not connected to the wall
Bricks are used for the seating with a slab of black-oxide on top, the same material used for the backrest as well
The brick walls and an absence of windows allow the interior space to be acoustically separated from the outside noise
The circular service core is made up of two concentric cores within it – the inner one open to sky unobstructed and opens to the inside of the space to allow ventilation to come from within the building itself. With the Jalis and this shaft space, the structure becomes airy enough to combat the heat of Thiruvananthapuram. This technique is called the stack effect
The service areas, including the washrooms, are located near the core
The ground floor has a separate entrance to the kitchen. Due to the strong slope of the ramp, it becomes a little difficult for the staff to provide food to all the upper areas constantly, which is why it is preferable if the lower areas are filled up first
CENTRE FOR DEVELOPMENT STUDIES

1975
Trivandrum
The design is a response to the sloping contoured site and seems to grow out of it
The forms of the buildings also follow the site with curved walls and building forms along the contour
When trees were obstructing the building, Baker simply molded his walls around the trees so as not to disturb it
There are little courtyards in between buildings, often acting as an extension of the building itself and also pools of water which help in microclimatic control through evaporative cooling
The openings were Baker's interpretation of the gables which were tilted into the wind direction funneling it into the space
The main administrative building is the focus of the campus, with the 6 story circular library tower behind
The main entrance is majestic, sloping up towards the sky with the side walls welcomingly sloping outwards towards a wide set of steps
The building is totally open, symbolic of an institution whose aim is to promote research into helping the poor
The library tower is a circular tower with an external jali wall which encloses a circular staircase in the centre
The staircase winds around a circular shaft which runs from the bottom level all the way till the top
There are small openings in this shaft at each floor level. The air is forced through these openings and escapes through the open top of the shaft, maintaining a good flow all around. This shaft is based on the simple principle of Stack effect
The perforated jali wall on the external side allows plenty of diffused natural light inside and creates a beautiful ambience for reading
Exposed brick walls in beautiful patterns and bonds, exposed concrete sloping roofs with filler slabs of Mangalore tiles forming beautiful patterns and jalis in the brick walls of numerous designs creating amazing patterns of light and shade inside the buildings while at the same time letting in wind and light
The plinths of the buildings are all of exposed random rubble granite, the white contrasting with the red of the brick
Baker has used lime mortar for his walls, making the lime in the site itself by burning sea shells (from the beach a few miles away) and grinding it
The flooring is in red oxide which imparts a cool comfortable base to walk on while complementing the earthy materials of the walls and the roof
There are external pavements in concrete, inset with granite aggregates in the shape of flowers and leaves
To keep the interiors of the computer building cool, Baker has devised the imaginative use of a false external jali screen wall which acts as a skin. The air trapped in between acts as insulation and keeps the interiors cool. All the buildings in the campus are climatically so efficient that even fans are not required. The interiors are cool and comfortable
MRS. NALINI'S RESIDENCE

1971
Trivandrum
Requirements:-

Meeting place
Working place (training)
Open spaces
Classroom & dormitories

External Views: Generous sprawling ground floor with three floor staking of pentagon
The main house is formed by a simple three-floor stacking of the pentagon on nine-inch-thick brick walls
Internally each floor divides into the bedroom, bath and landing
The additional segment on the ground, forming the living/dining and kitchen, is structured with bays of half-brick thickness, alternating wall and wall and door
Built furniture of bricks
1st floor bedroom entrance: Common door for entry and bathroom
Jali walls: Sun light merging inwards.
COMPUTER CENTRE

1971
Ulloor, Trivandrum
Challenges :

Solution of Computer Centre Design Problems
Fitting in naturally and harmoniously with the elevations of the twenty five year old institution

Using principle of lattice wall planning, breezeways and built of natural brick and stone keeping in consideration the electronic sophistication
Baker proposed a double walled building with an outer surface of intersecting circles of brick jalis
Internal shell fulfilled the constraints and controls necessary for a computer laboratory
Space between the two walls accommodated the secondary requirements for offices and storage areas
Two storied outer wall is stiffened by a series of intersecting circles
FISHERMEN'S VILLAGE

1974 – 1975
Trivandrum
CHALLENGES:

Severity of environment in which the tribal's live.
Limitation of resources
Conventional architects stayed away from these projects
Dealing with large insular groups, with set ideas and traditions.
Dealing with cyclones

Area of each unit : 25 sqm
Construction:

Exposed brickwork and structure
Sloped concrete roof
Openness in design and individual units offset each other
Continuous latticework
In the exposed walls

Dealing With Cyclones:

Low sloped roofs and courts serve as wind catchers
Open walls function to dispel it
Long row of housing replaced by even staggering
Fronting courts catch the breeze and also get view of sea

Open Spaces

Little private rectangle of land in between houses for drying nets, kids play
Provides sleeping lofts within and adequate space outside for mending nets and cleaning and drying fish
LOYOLA CHAPEL

1971
Trivandrum
The complex contains a high school and a post-graduate complex, both sharing a common chapel and an auditorium
It was here that Baker's skills of cost-reduction met their greatest challenge, as it required a seating capacity of one thousand
In order to increase the lateral strength of the high brick wall, without the introduction of any steel or concrete, Baker devised a wide cavity double-wall with cross-bracing brick
The total covered area of the chapel and auditorium and the gallery is approximately 930 square meters
The cost in 1970-71, including the furniture and appurtenances, lighting and sanitation was kept within the original gift sum of 1.75 lakh rupees
Both the walls were pierced with a continuous floor-to-roof pattern of jalis, so that the chapel was adequately, though somewhat mysteriously, lit- and ventilated
Despite its tall proportions, the acoustics of the hall were remarkable-the exposed surfaces and the open patterns of brick work controlling the reverberations
ST. JOHN'S CATHEDRAL

1972
Tiruvalla
The cathedral has a temple-like exterior but a conventional church interior
St. John's Metropolitan Cathedral is the seat of the Archbishop of the Syro-Malankara Catholic Archeparchy of Tiruvalla
Aspects of traditional Kerala architecture, temple architecture and Eastern (Syrian) Christian tradition were integrated into the design
The exterior design incorporates elements from the architecture of the old cathedral that it replaced
The cathedral's interior has a depiction of biblical themes in stained glass
Three key premises that are shown through these biblical themes are: God in search of man, man in search of God, and man in search of the other
The stained glass images depict the story of the Good Samaritan, The Prodigal Son, The Parable of the 10 Virgins, Zacchaeus, Parables of the Lost Sheep and Coins, the Rich Man and Lazarus, and the Last Judgment; important incidents in the life of Jesus from birth until the resurrection
Use of stained glass on the dormer windows
CHENKAL CHOOLA HOUSING

Trivandrum
Low cost housing project
With over forty houses built on Gandhian principles Baker, the Chenkal choola Housing in Trivandrum derives its name from the red brick "Chenkal" obtained from this area previously the Thycaud Hill
Baker found beauty in the natural color and texture of the red bricks and kept away from plastering and painting it
Each house stands out from the other with the unique aspect being the bricked wall and cluster around a common area which adjoins to the main road
Although a well-planned colony with houses built based on income groups, the place eventually became a hub for criminal activities with non-permissive sheds on the roadside caused by government negligence and poor maintenance
Other notable Projects:

International Leprosy Mission
Wealthy Fisher's Literacy Village, Lucknow
Andhra Pradesh Quaker Cyclone Project
Latur Earthquake Proof Housing Project
Tsunami-proof Housing Project

Baker designed and built a dance village, computer institutes, fishermen' s huts, chapels and churches, factories, schools, film studios, orphanages, tourist resorts, residences, technical institutes, earthquake and tsunami resistant houses, leprosy homes, a Literacy Village, hostels, slum dwellings improvement, an ornithology centre, government buildings, a blind children' s international school and a museum.
Also read about –
Few of the main research sources –
KEEP READING, KEEP GROWING!