Disclaimer: All the information shared is completely raw and to the best of my knowledge. For privacy purposes, the names of the people involved are not revealed. The reviews shared are totally personal and are not meant to hurt any sentiments, persons, authorities, or objects. This travelogue is written for educational and informational purposes only and to act as a memoir.
Click here to read PART – IV
---
4 MINUTE READ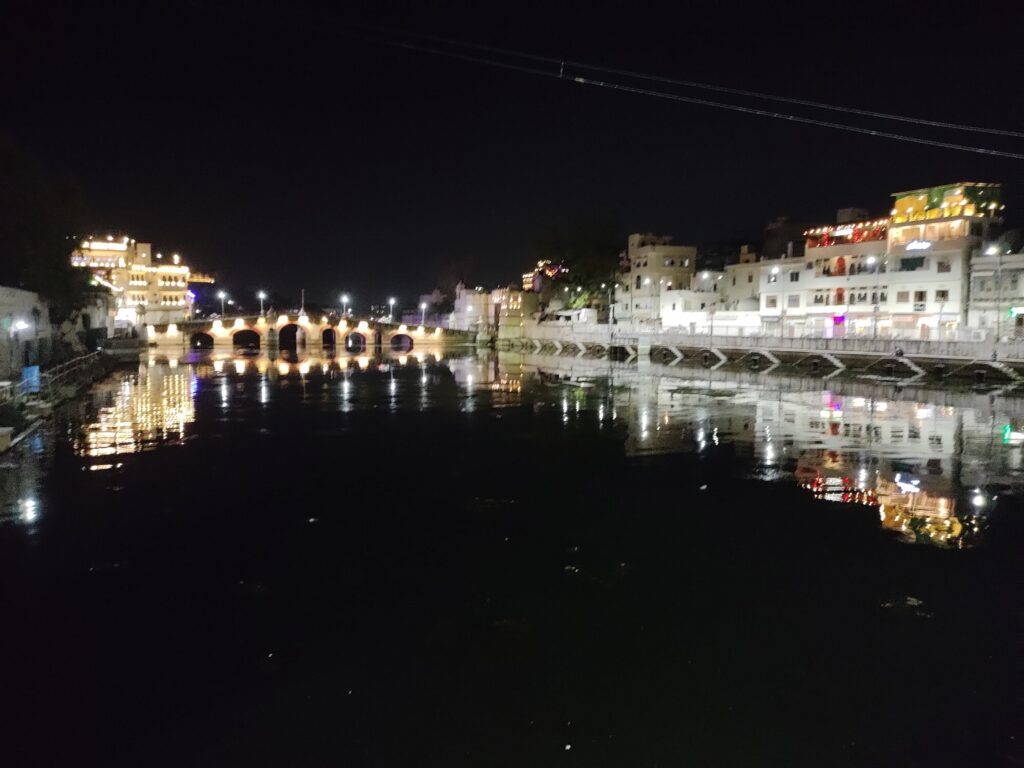 We planned a traditional theme for March 29. So, everyone gave their precious time to the mirror and came to Jagdish temple, which was also within walking distance.
Jagdish Temple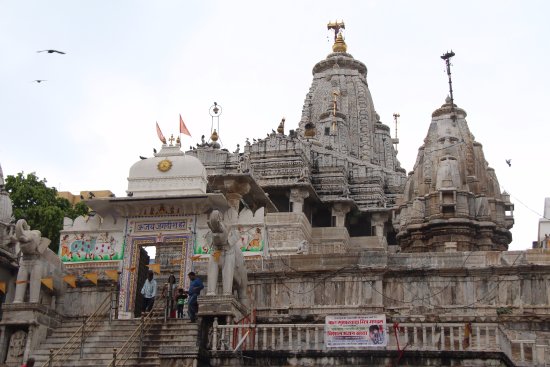 Jagdish Temple is a large Hindu temple in the middle of Udaipur. It is built on a high terrace and connects a two-story mandapa to a two-story saandhara (with a covered ambulatory) sanctum.
The mandapa has another story tucked within its pyramidal bell roof, while the hollow, clustered spire over the sanctum contains two more, nonfunctional stories.
We had a photo session there, and then after breakfast, we headed off to the monsoon palace by auto. But on reaching there, we found that it is a residential palace and is at a reasonable height with a high entry cost, so we decided to skip this palace and head off to Fateh Sagar Lake.
Fateh Sagar Lake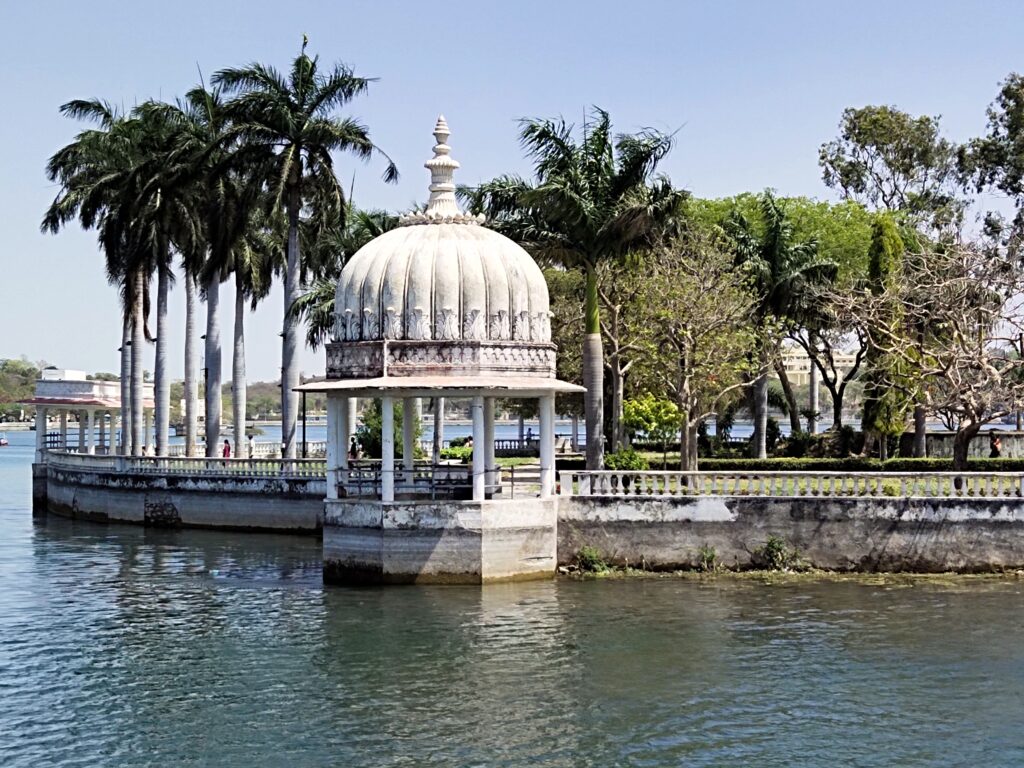 It is an artificial lake, and within it confines three small islands: the largest of these is Nehru Park, the second houses a public park with an impressive water-jet fountain, and the third is for the Udaipur Solar Observatory (USO).
We did a boat ride on the lake and visited Nehru Park. After spending some quality time at the lake, we came back to the hotel. After lunch, we started to pack our bags.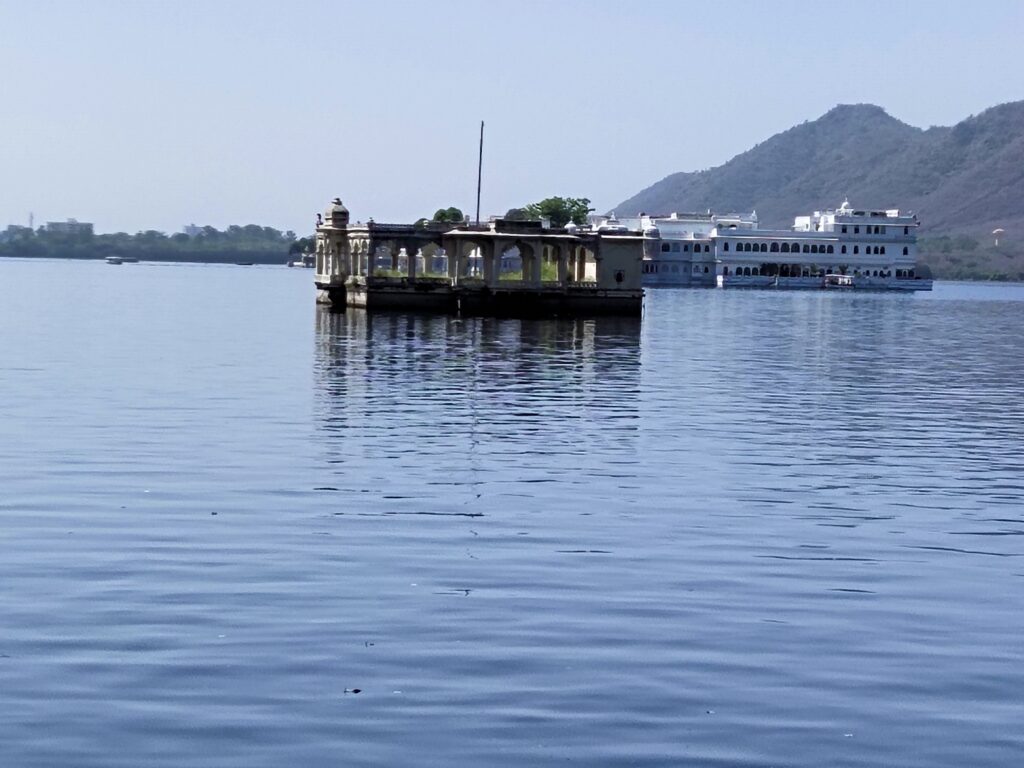 Well, throughout the tour, many of us skipped our breakfast, lunch, snack, or dinner many times, and one of the reasons was ill health due to the harsh weather of Rajasthan; others were people trying to explore a different cuisine. However, we had our train (UDZ- KURJ EXP.) at 22.10 hrs. for Jaipur.
---
Jaipur – The Pink City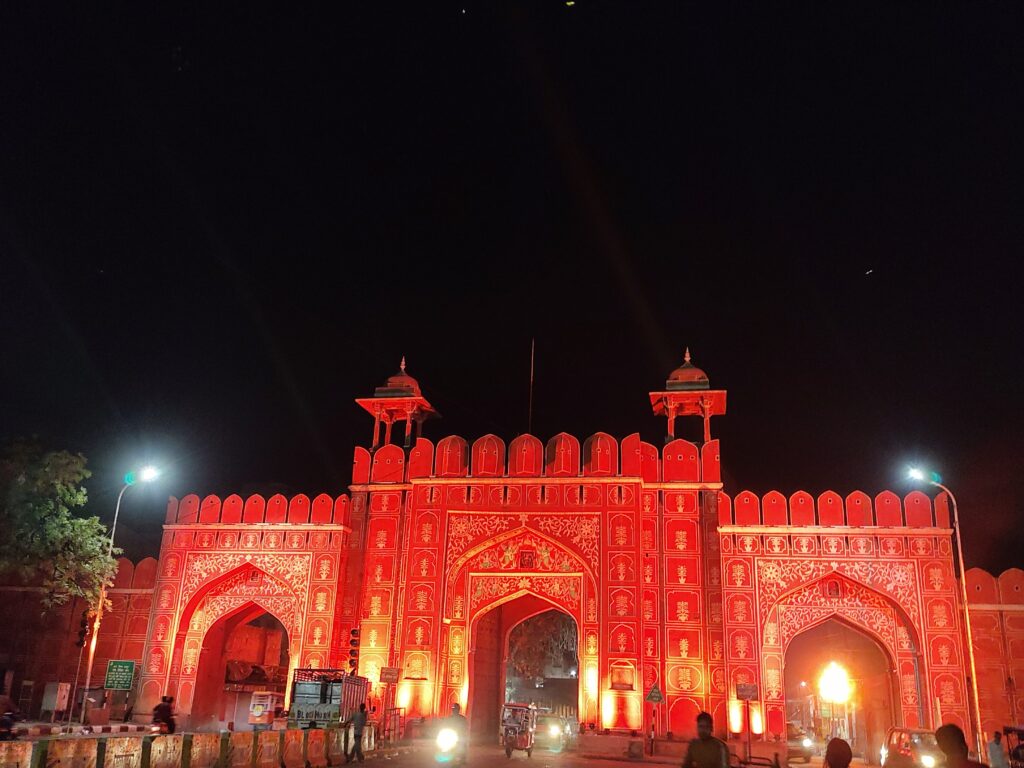 Taking with us the nostalgic memories of the lake city—Udaipur—we arrived in Jaipur at 05.25 hrs on March 30th. Earlier, we had kept it as a free day, but as we missed a few monuments during our first visit, we decided to visit them then.
Jantar Mantar – Jaipur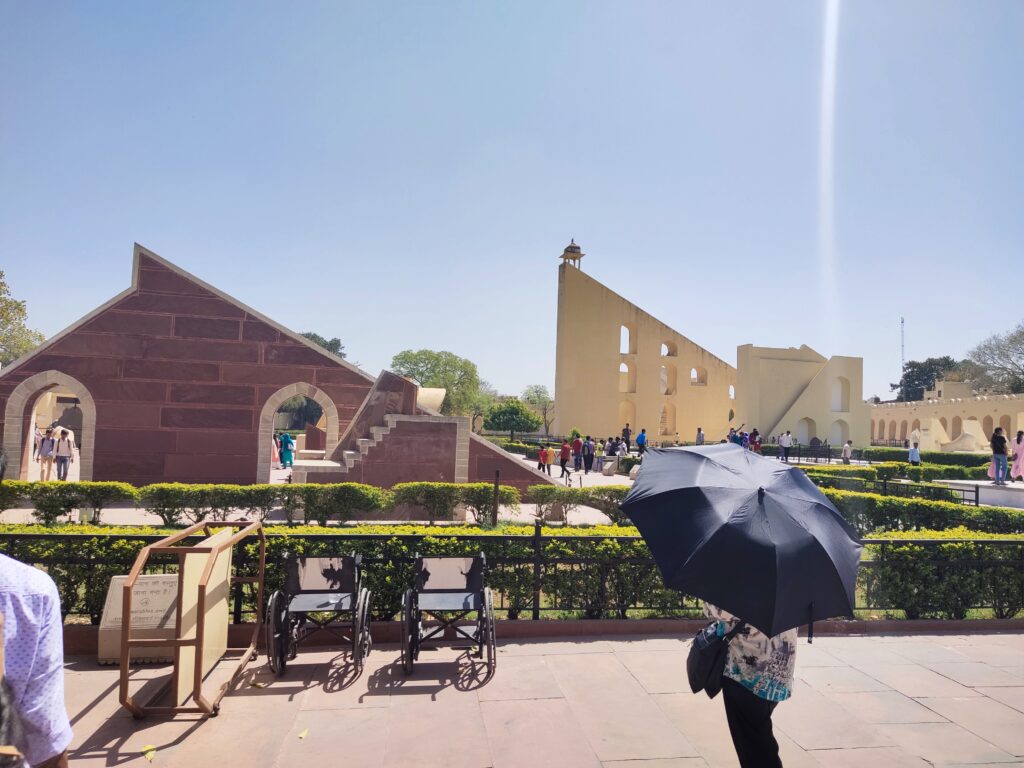 After breakfast, we visited the UNESCO World Heritage site, Jantar Mantar. It features the world's largest stone sundial. It has a collection of 19 astronomical instruments, which allow the observation of astronomical positions with the naked eye.
The monument features instruments operating in each of the three main classical celestial coordinate systems: the horizon zenith local system, the equatorial system, and the ecliptic system.
After Jantar Mantar, we walked to the City Palace.
City Palace – Jaipur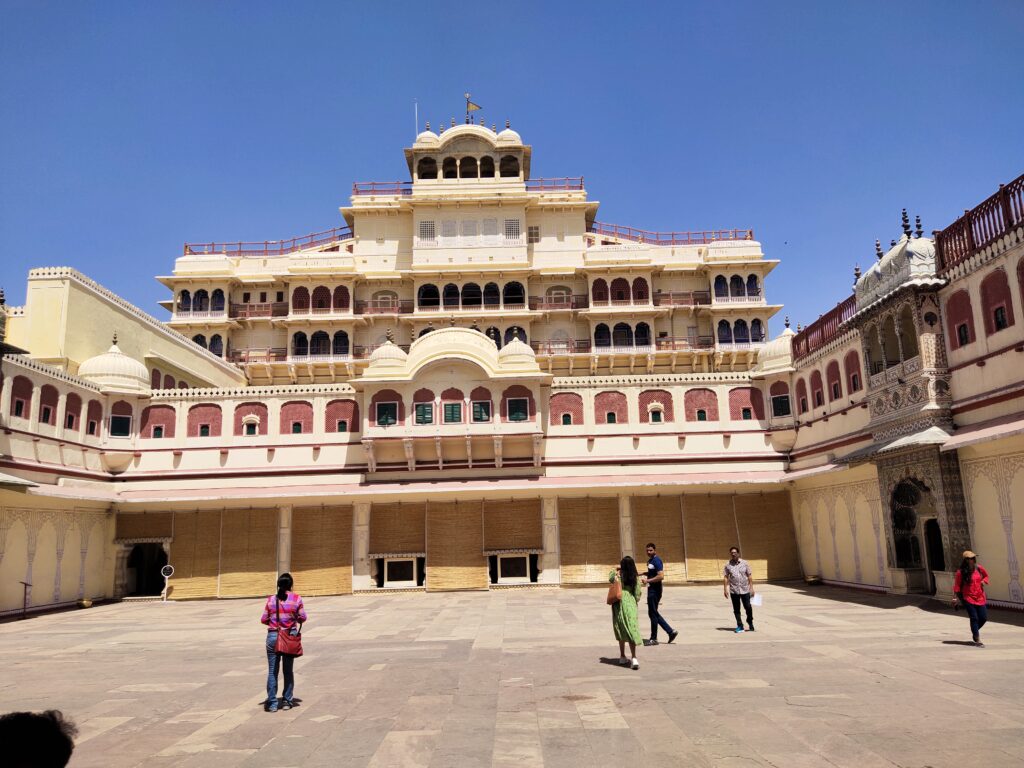 We visited this palace with the assistance of a guide. It is laid out in a unique pattern with wide avenues. It has a unique and special complex of several courtyards, buildings, pavilions, gardens, and temples. Three main gateways lead to the city palace.
The most prominent and most visited structures in the complex are the Chandra Mahal (which is the oldest building in the city, having seven floors with colored glasswork), Mubarak Mahal, Shri Govind Dev Temple, and the City Palace Museum.
After the City Palace, it was a free day for all, which everyone enjoyed as per their wishes. Finally, on March 30th, our tour came to an end.
---
The Wrap!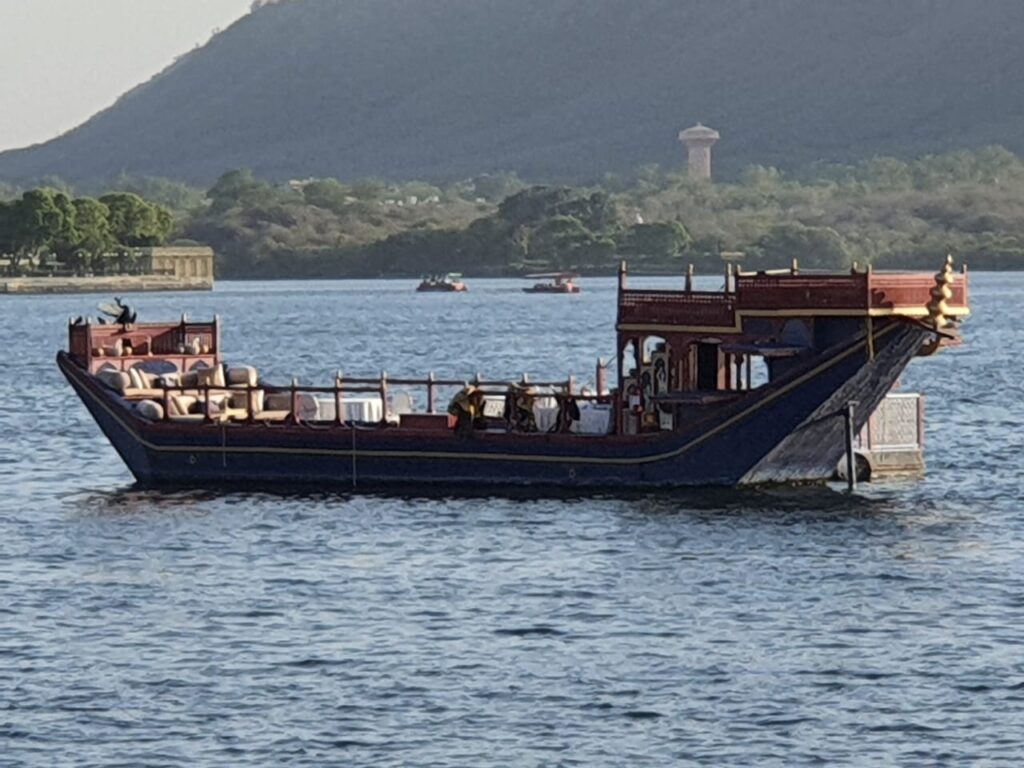 Although we had planned to visit around 40 monuments, but alas, it was not destined for us, and we ended up with only around 27. And talking about Rajasthan, the city is very rich in architecture, culture, and traditions; the only thing it lacked was maintenance. The city's beauty could have been preserved if it had been better maintained.
Talking about nature, bougainvillea is found in abundance, but trees are a little fewer here; nevertheless, the lakes of Udaipur make it the most scenic place.
Anyways, the tour was finally over, and we boarded our train (Pratap Exp.) from Jaipur on March 31st, at 11.00 hrs, and arrived in Durgapur on April 1st, around 10.45 hrs, with a bundle of memories, a lot of experiences, and a treasure trove of learnings.
We returned to the world where we began after many ups and downs, and good and bad experiences. But these experiences and memories will stay with us, ever and forever…
---
Thanks for reading!!