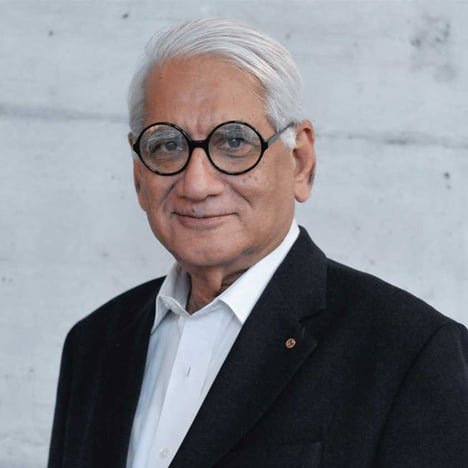 1ST September 1930 – 16TH June 2015
"Certainly, architecture is concerned with much more than just its physical attributes. It is a many – layered thing. Beneath and beyond the strata of function and structure, material and texture, lie the deepest and most compulsive layers of all." – Charles Correa
Charles Mark Correa was an Indian architect and urban planner.
Credited with the creation of modern architecture in post – independent India.
His sensitivity to the needs of the urban poor and for his use of traditional methods and materials.
Designed almost 100 buildings in India, from low-income housing to luxury condos.
He rejected glass and steel approach of some post-modernist buildings, and focused on designs deeply rooted in local cultures, all the while providing modern structural solutions under his creative design.
His style was also focused on reintroducing outdoor spaces and terraces.
Played with voids and spaces.
Considered the climates.
Few of his major principles –

INCREMENTALITY
IDENTITY
PLURALISM
INCOME GENERATION
EQUITY
OPEN TO SKY
DISAGGREGATION

BELAPUR HOUSING being one project where he has literally used these principles.
BELAPUR HOUSING

Mumbai
High density housing in low rise typology – DISAGGREGATION
OPEN TO SKY
Each unit has space for its expansion – INCREMENTALITY
Units are malleable so that they can be colonized by occupants, and modified to their social/cultural/religious need – IDENTITY
Simple construction by traditional mason and craftsman – generating employment for local workers – INCOME GENERATION
Several plan exist that cover the social spectrum, from squatters to upper income families – PLURALISM
Footprint of each plan varies a little in size (45-70 sq.m), maintaining equity (fairness) in the community – EQUITY
GANDHI SMARAK SANGRALAY

Sabarmati Ashram, Ahmedabad
1958 – 1963
Modern architecture
Wooden doors, stone floors, ceramic tile roof and brick columns
First work in private practice
To reflect the simplicity of Gandhi's life and the INCREMENTALITY nature of a living institution, he used modular units (DISAGGREGATION) of 6m by 6m of reinforced cement concrete spaces, both open and covered, allowing for eventual expansion
Variety in the module's lighting, temperature, and visual permeability
Simple but delicately detailed post and beam structures
Load bearing brick columns support concrete channels, which also support the wooden roof
Foundation is made of concrete and is raised a foot from the ground
The modular pavilion unit was designed to facilitate a future extension and to emphasize the idea of a single component making the whole
He placed 5 distinctly programmed interior spaces within an asymmetrical grid plan
Instead of a single volume, the house comprises of 5 huts with different functions surrounding a courtyard.
KANCHANJUNGA APARTMENT

Mumbai
1961 – 1966
32 luxury apartments
Use of voids – different sizes – punctures
It is a direct response to the present culture, the escalating urbanization, and the climatic conditions of the region
East – West oriented to catch prevailing sea breezes and to open up the best view of the city
Interlock of 4 different apartment typologies varying from 3 to 6 bedroom each
Reinforced concrete
6.3m cantilevered open terraces
The central core is composed of lifts and provides the main structural element for resisting lateral loads
Terrace garden
Almost each block has their own balconies
There are level differences in each of the floor, so as to provide opening or balcony to each block
The central core was constructed ahead of main structure by SLIP METHOD of construction – This technique was used for first time in India for a multistory building – SLIP FORMING, continuous poured, continuous formed, or slip construction is a construction method in which concrete is poured into a continuous moving form. It is used for tall structures, as well as horizontal structure (as in bridges, etc.)
TUBE HOUSE

Ahmedabad
1961 – 1962
Demolished
Early example of Correa's "FORM FOLLOWS CLIMATE" ideology
Low-cost housing unit
With tight dimensions of 18.2m long by 3.6m wide, the unit minimizes the use of doors and windows
Small internal courtyard – covered by pergola grid to minimize the heat impact and ensure security
Slits in sloping roof, along with adjustable louvers by the entrance
Use of "hot air rises" principles to utilize the conventional flow of air currents to naturally ventilate and cool the house
Open floor plan distributes the functions on different levels of the section of the house – which enables privacy and creates visual barriers without the use of walls or doors
VIDHAN BHAWAN

Bhopal
1980 – 1997
Use of horizontal and vertical lines along with curves
Entire architectural composition is enclosed by a circular wall, as if it were a city within another
Intersecting sets of roofs
Dooms and walkways that give rise to a harmonious profile
Concept of circular form – it symbolizes equality and self-containment, autonomy
Modernism + post-modernism
Courtyard, gardens
Skylights
Path that ascends to main access of the building is not axial, but follows an irregular pattern contouring the hill
Concept of "mandala" – cosmic organization of functions, sequences, and spaces within ancient Hindu conception of universe
Use of Vedic principles
General plan consists of a series of space divided within other spaces, divided into a pattern of nine compartments (mandala concept)
On two perpendicular axes, which emanate from a central courtyard, are administrative offices
Local red sandstones, handmade ceramic tiles, contemporary murals
KALA ACADEMY

Goa
1970
Use of courtyard, pergola, pilotis, murals
Even in its expansive built form, it draws the pedestrian streets into internal open to sky courtyards
Concrete slabs benches for sitting
Simple orthogonal grid makes up the plan
Entire building is low, with just 3 floors and furthers the horizontality of structure
Transition between spaces is through corridors, resembling the street of Goa
ISLAMIC CENTRE

Toronto
2010 – 2014
Glass dome structure
Cultural centre for Islamic community
Contemporary forms and modern materials
Curving stone wall and an angular translucent glass dome, approached by gravel path that cut trough bed of purple flowering plants
Prayer hall has crystalline roof dome – Strip of glass that runs up the centre of the roof is framed by a ladder-like arrangement of metal struts. While pieces of glass that complete the dome on either side are fitted into faceted frames – The plane of translucent glass diffuse the bright sunlight during day, but allow the dome to glow like a beacon at night when space is illuminated from within
Next to prayer room, anteroom is sectioned off by metal grilles – Here folded ceiling with a start shaped form surrounds a circular skylight
BHARAT BHAWAN

Bhopal
1982
Modern architecture rooted in vernacularity
Series of terraces and courtyards
Religious influence
"OPEN TO SKY" concept
With respect to climatic conditions
Houses art galleries, graphic painting workshop, ceramic workshop, open-air amphitheatre, studio, auditorium, museum of tribal and folk art, and library of Indian poetry, classical and folk music
JEEVAN BHARTI, LIC BUILDING

New Delhi
1986
External walls are clad with red Agra sandstones, with glass façade, and space frame structure – SPACE FRAME STRUCTURE is the truss like, lightweight, rigid, structure constructed from interlocking struts in a geometric pattern
2 lower levels of the complex consist of shopping deck and restaurants
Upper levels of office are located in two separate wings
Proximity to the major centers of the city
A great pergola (98m long) connects the 2 office wings – pergola, supported at either ends by masonry piers and in middle by a single column
JAWAHAR KALA KENDRA

Jaipur
1986 – 1992
8 block housing museum, 1 Amphitheatre, and other closed auditorium, library, art display room, cafeteria, small hotel, art studio
Plan inspired by original plan of Jaipur
Consisting of 9 squares with central square left open
Adapts and applies concepts from ancient architectural principles called the Vastu Vidya
Directly invokes the original Nava Graha or Nine House Mandala
BRITISH COUNCIL DELHI HEAD QUARTER

Delhi
1987 – 1992
Use of murals
Headquarter along with library, auditorium, art gallery
Series of floors in layers
Use of voids
Simple and unique façade
References Hinduism, Islam, and the European enlightenment as well as importance of cosmic and religious symbolism to his work
KOVALAM BEACH RESORT

Kerala
Use of OPEN TO SKY concept
Traditional vernacular style
Good use of contour site
Guest room are in 3 types –

On edge of beach hidden under palm trees – Suites for longer stay with cooking facility
Overlooking the beach there are 100 guest rooms – here, every room gets its own private sundeck
Between these two, are private detach housing units
CHAMPALIMAUD CENTRE FOR UNKNOWN

Lisbon, Portugal
2007 – 2010
Use of OPEN TO SKY concept
Contemporary architecture
3 units – Largest for doctors and scientists; second for theatre, exhibition hall, office, etc.; third for open air Amphitheatre
Pathway is ramped (1:20)
Appreciating view around the pathway
PARUMLA CHURCH

Parumala, Kerala
2000
Courtyard
Can accommodate 2000 people inside and 3000 outside
Form of the church has been derived from TRI-PARTITE structure of Coptic and Syrian tradition
2 major parts-sanctum sanctorum (holy alter) and the room where the mortal remains of Parumala Thirumeni (Kabar) are entombed, is kept and connected to the main church
Few of the main research sources –
KEEP READING, KEEP GROWING!