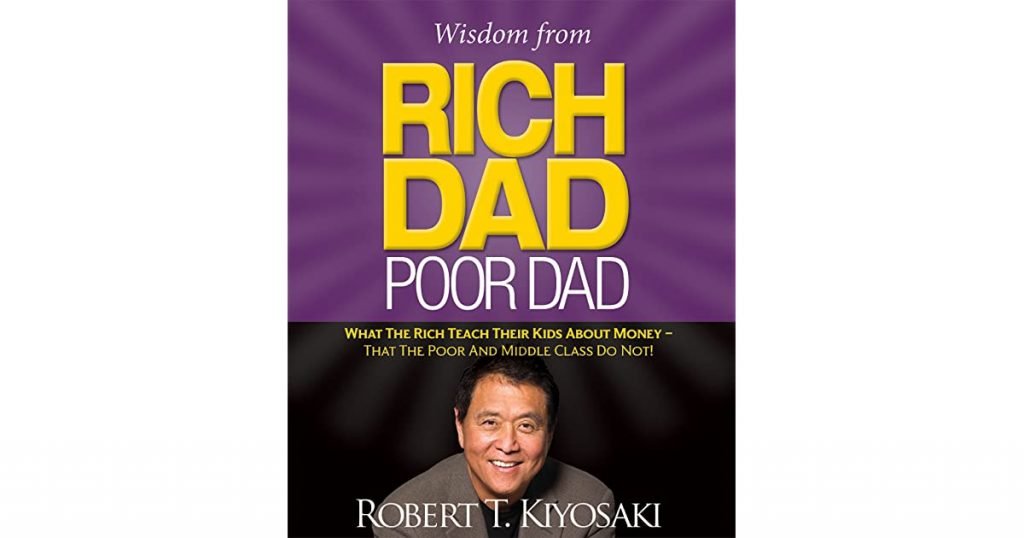 Those who control the past, controls the future,

Those who control the present, controls the past.
So, here we are with another summarization of one of the best selling books, 'RICH DAD POOR DAD' by ROBERT T. KIYOSAKI.
Author describes how brought up by two influential fathers, one educated though poor (would be poor) (his own father) and other less educated and rich (would be rich) (his best friend Mike's father), made him learn the best lessons of life. Having guided by two ideologies, helped author think about the decisions rather than just accepting or rejecting an idea, which made him wise and grow in his life. But having guided by opposing ideologies, author finally chose up to follow his rich dad. And just at the age of 9, his rich dad started training him and Mike to develop their financial knowledge and grow rich.
Rich dad believed that, "The main reason people struggle financially is because they spent years in school but learned nothing about money. The result is, people learn to work for money but never learn to have money work for them".
Rich dad gave him six lessons, which are as follows, to develop their financial knowledge :-
Lesson #1 THE RICH DON'T WORK FOR MONEY – They make money work for them through their assets.
Lesson #2 WHY TEACH FINANCIAL LITERACY? – To know the difference between an asset and a liability, and try to grow the asset column along with reducing the liability column.
Lesson #3 MIND YOUR OWN BUSINESS – Don't depend on your job, mind your own business (that do not require your presence) to build your asset column.
Lesson #4 THE HISTORY OF TAXES AND THE POWER OF CORPORATION – To understand how the taxes and the corporations plays an important role in our way to become rich.
Lesson #5 THE RICH INVENT MONEY – Try to find ways to invent money and build up the asset column.
Lesson #6 WORK TO LEARN DON'T WORK FOR MONEY – If you work for money you cannot learn more, and if you cannot learn more you cannot grow. But if you work for leaning money will automatically follow you and help you build your asset column.
Rich dad believed that schools were designed to produce good employees instead of employers because during the schooling a person loses the time in which he could have made assets and grown in value, a person loses additional capitals which could have been invested instead of paying for high maintenance expenses related directly to home, and even there is loss of financial education due to which a person counts their house, savings and retirement plans as all as their assets because they have no money to invest or simply they do not invest, which costs them financial experience.
Rich dad explained that, "Rich buy assets. The poor only have expenses. The middle class buys liabilities they think are assets". He believed that if a person have difficulty in understanding the balance sheets and income statements having huge accounting numbers, then he can understand it with the simple cash flow patterns which tells stories of money. He used these diagrams to teach financial education to author and his son. He followed the KISS formula – KEEP IT SIMPLE STUPID!
The cash flow pattern of a poor or a young person still at home is –
JOB (provides income) -> EXPENSES (taxes, food, rent, clothes, fun, transportation) ->ASSET (none) -> LIABILITY (none)
The cash flow pattern of a person in the middle class is –
JOB (provides income) -> EXPENSES (taxes, food, mortgages, clothes, fun, transportation) -> ASSET (none) -> LIABILITY (mortgage, consumer loans, credit cards)
The cash flow pattern of a wealthy person is –
ASSETS (stocks, bonds, notes, real estates, intellectual properties) -> INCOME (dividends, interest, rental income, royalties) ->LIABILITY (none)
The real assets fall into several categories, such as –
BUSINESS – that do not require your presence. You own them, but they are managed or run by other people. If you have to works there, it's not a business, it becomes a job.
STOCKS
BONDS
MUTUAL FUNDS
INCOME GENERATING REAL ESTATES
NOTES (IOUs)
ROYALTIES – from different intellectual properties such as music, scripts, patents, etc.
Any other thing that has value, produces income or appreciates and has a ready market.
Author does not encourages anyone to start a company unless they really want to or have a proper knowledge about running a company. As nine out of ten companies fail in less than five years, and those who survive the five years, nine out of ten of those eventually fail, as well. Once, a dollar goes into your asset column, never let it come out, as once it goes into asset column it becomes your employee. The best thing about money is that it works 24 hours a day and can work for generations. Keep a day time job, be a great hard working employee, but keep building the asset column. This is what called as 'Minding Your Own Business'.
What most people do is they impulsively go out and buy a new car, or some luxuries, on credit. They may feel bored and just want a new toy. Buying a luxury on credit often causes a person to sooner or later resent that luxury because the debt on the luxury becomes a financial burden. After you have taken time and invested in and built your asset column, you are now ready to add the magic touch- the biggest secret of the rich. The secret that puts rich way ahead of the pack. The reward at the end of the road for diligently taking the time to build your asset column.
The RICH people with CORPORATIONS –
EARN
SPEND
PAY TAXES
The people who work for CORPORATIONS –
EARN
PAY TAXES
SPEND
As a part of your overall financial strategy, we strongly recommend owing a corporation wrapped around your asset.
If you work for money, you give the power up to your employer. If your money work for you, you keep and control the power.
JOB SECURITY meant every thing to author's Educated Dad. LEARNING meant everything to author's Rich Dad. Rich dad thought it is best to go broke before 30, "You still have time to recover" was his advice. As for a rule of thumb he advised, "Don't learn a lot about a few, instead learn a few about a lot". Rich dad believed, "Highly specialize, then unionize", it's the smart thing to do. Educated dad never understood that the more specialized you become, the more you are trapped and dependent on that speciality. And that's why ran all his life specializing his degrees and raise his income, but failed to get out of the RAT RACE.
The main management skills needed for success are –
THE MANAGEMENT OF CASH FLOW
THE MANAGEMENT OF PEOPLE
THE MANAGEMENT OF SYSTEM (including time for yourself and your family)
According to Rich Dad, the most important skills are sales and understanding marketing. It is the ability to sell- therefore, to communicate to another human being, that is the base skill of personal success. It is the communication skills such as writing, speaking and negotiating that are crucial to a life of success. The better you are at communicating, negotiating, and handling the fear of rejection, the easier the life is. Author says in addition to being a good learner, seller, marketer, one need to be a good teacher and good student, as well. As there are many people who are poor because they are neither a good student nor a good teacher. Thus, the author became, both of his dads, one part of him is a 'hard core capitalist' who loves the game of money making money, the other side is a 'socially responsible teacher' who is deeply concerned with his ever widening gap between the haves and have nots.
Author says, once people have studied and become financially literate, they may still face roadblocks to become financially independent. There are five main reasons why a financially literate person fails become financially independent –
FEAR – Overcoming the fear of losing money is necessary. The fear of losing money is natural, everyone has it. But it's not the fear that is the problem, it's how you handle the losing, the failure, that makes a difference in one's life. Accepting the failure and using it as a motivation to grow again is the real success.
CYNICISM – Overcoming cynicism is also necessary. All of us have doubts. But the words of doubts often gets so loud that we fail to act. We fail to move forward. So we stay with what is safe and opportunities passes by. Only a person's doubt keep them poor. "Cynics never win" says rich dad. "Unchecked doubts and fear creates a cynics. Cynics criticize, and winners analyse" was his another favorite saying.
LAZINESS – Busy people are often the most lazy. There are people are too busy to take care of their wealth. There are people who are too busy to take care of their health. The reason is same, they are busy and they stay busy as a way of avoiding something they do not want to face. Nobody has to tell them. Deep down they know. If fact if you remind them, they often react with anger or irritation. "Greed is good" , Rich dad said, "Guild is worse than greed". However, too much of anything is not good.
HABITS – Our lives are a reflection of our habits more than our education. Author, always paid himself first, which created a pressure on him to work harder and get more income, build more assets, which made him smarter and more active when it comes to money . If he would have paid himself last, he would not have felt that pressure, and he would have become broke.
ARROGANCE – Arrogance is ego plus ignorance. Overcoming arrogance is too necessary as it may harm your financial knowledge and stop you from becoming rich.
Everyone has a financial genius within themselves. All need to do is to awaken that financial genius. According to the author, the ten steps to awaken your financial genius are –
I NEED A REASON GREATER THAN REALITY – The power of spirit is huge. If you do not have a strong reason, there is no sense reading further. It will sound like too much work.
I CHOOSE DAILY – The power of choice. That is the main reason people want to live in a free country. We want the power to choose. Financially with every dollar we get in our hands, we hold the power to choose our future to be rich, poor or middle class. Our spending habits reflect who we are. Poor people simply have poor spending habits. To become rich, one need to choose learning new skills everyday and training their brain financially.
CHOOSE FRIENDS CAREFULLY – The power of association. Author says, do not choose friends according to financial statements. The point is to learn from everyone. Learn the good and reject the bad.
MASTER A FORMULA AND THEN LEARN A NEW ONE – The power of learning quickly. Author says, "You become what you study", in other words be careful about what you study and learn, because your mind is so powerful that you become what you put into your head. Learn new skills. Working hard for money is an old formula born in the day of cave men.
PAY YOURSELF FIRST – The power of self discipline. It is the lack of self discipline that causes most lottery winners go broke soon after winning millions. It is the lack of self discipline that causes people who get a raise to immediately go out and buy a new car or take a cruise.Simply put, people who have low self esteem and low tolerance for financial pressure can never be rich.
PAY YOUR BROKERS WELL – The power of good advice. The real skill is to manage and pay well the people who are smarter than you in some technical area. That is why companies have a board of directors. You should have one or two. And that is financial intelligence.
BE AN 'INDIAN GIVER' – This is the power of getting something for nothing. When the first white settler came to America, they were taken aback by a cultural practice some American Indians had. For example, if a settler was cold, the Indian would give him a blanket. Mistaking it for a gift, the settlers were offended when the Indian asked for it back. The Indians got upset when they realized the settler did not want to give it back. That is where the term, "INDIAN GIVER" came from. A simple cultural misunderstanding. The same is done with stocks too. Invest it when it is the right time and then after sometime take it back. Hence, having no loss. Exceptions are there. But making money is about taking risks.
ASSETS BUY LUXURIES – The power of focus. The earlier you train yourself and those you love to be the master of money, the better. But if your financial intelligence is low, money will run over you. It will be smarter than you and you you will work for it all your life. To be the master of money you need to be smarter than money. That is financial intelligence.
THE NEED FOR HEROES – The power of myth. Heroes do more than simply inspire us. They make thing look easy. It's the making it look easy that convinces us to want to be just like them. "If they can do it, so can I". When it comes to investing, too many people make it sound hard. Instead find heroes who make it look easy.
TEACH AND YOU SHALL RECEIVE – The power of giving. Rich dad gave money as well as education. He believed firmly in tithing. "If you want something, you first need to give" he would always say. When he was short of money, he simply gave money to his church or to his favorite charity. Whenever you feel "short" or in "need" of something, give what you want first and it will come back in buckets.
Author shared some "dos" on how to get started, which are as follows –
Stop doing what you are doing, in other words take break and assess what is working and what is not working.
Look for new ideas. Invent ideas. Read books. Earn knowledge.
Find someone who has done what you want to do.
Take classes and buy courses.
Make a lots of offers.
Jog, walk or drive a certain area once a month for ten minutes. It gives ideas and open up chances.
You need to know what you are looking for and then go for it.
Know when to buy and sell stocks. Understand the market.
Look at the right place to sell and buy.
Learn from history.
Action always beats inaction. Don't play it safe, play it smart. Take actions.
Author says, "Take responsibility for your finances or take orders all your life. You are either a master of money or a slave of it".
Awaken the financial genius that lies within you. Your genius is waiting to come out.
So this is all about the great book 'RICH DAD POOR DAD'. Hope you would learn from it and start training yourself to become financially independent. As any other education, financial education is also as much important. So get up take actions and start developing financial intelligence. Stay tuned for more awesome summaries, support the work and comment below your choices.
KEEP READING, KEEP GROWING!