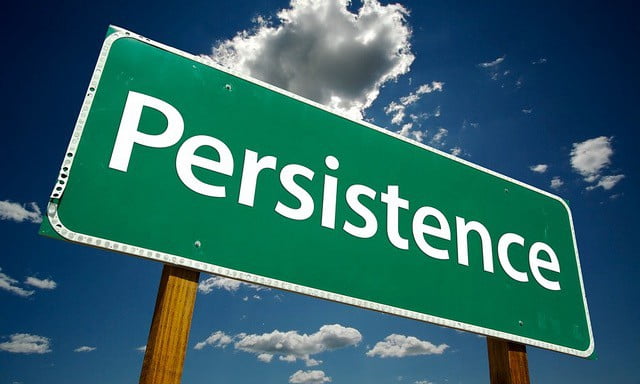 PERSISTENCE, a word which define our lives. It is one of the major factor which help in transmuting DESIRE into its physical equivalent. The basis of PERSISTENCE is the POWER OF WILL. Unfortunately, this major element is missing in most of the people these days, which may be fatal to their success. But, NAPOLEON HILL sir has left us with the solution to this problem in his international bestselling THINK AND GROW RICH, by jotting down the causes for persistence, symptoms of lack of persistence and the solution of it . So, be honest with yourself as you go through these points and accept the symptoms if it is there in you, and take the responsibility to build the power of persistence in your life. ENJOY READING!
SOME DEFINITE CAUSES OF PERSISTENCE –
DEFINITENESS OF PURPOSE – Knowing what one wants.
DESIRE – A burning desire to achieve the purpose of life.
SELF RELIANCE – Belief in one's ability to carry out a plan.
DEFINITENESS OF PLANS – Organized plans, even though they may be weak and entirely impractical.
ACCURATE KNOWLEDGE – Knowing that one's plans are sound, based upon experience or observation, but "guessing" instead of "knowing" destroys persistence.
COOPERATION – Sympathy, understanding, and harmonious cooperation with others.
WILL POWER – The habit of concerning one's thoughts upon building of plans for the attainment of definite purpose.
HABIT – Persistence is the direct result of habit. The mind absorbs and becomes a part of daily experiences upon which it feeds.
SYMPTOMS OF LACK OF PERSISTENCE –
Failure to recognize and to clearly define exactly what one wants.
Procrastination, with or without cause, usually backed up with alibis.
Lack of interest in acquiring specialized knowledge.
Indecision, the habit of "passing the buck" on all occasions instead of facing issues squarely.
The habit of relying upon alibis instead of creating definite plans for the solution of problems.
Self satisfaction, there is but little remedy for this affliction, and no hope for those who suffer from it.
Indifference, usually reflected in one's readiness to compromise on all occasions, rather than meet opposition and fight it.
The habit of blaming others for one's mistake, and accepting unfavorable circumstances as being unavoidable.
Weakness of desire, due to neglect in the choice of motives that impel actions.
Willingness, even eagerness, to quit at first sight of defeat.
Lack of organized plans, placed in writing where they may be analyzed.
The habit of neglecting to move on ideas, or to grasp opportunity when it presents itself.
Wishing instead of Willing.
The habit of compromising with poverty instead of aiming at riches.
Searching for all shortcuts to riches, trying to Get without Giving a fair equivalent.
Fear of criticism, failure to create plans and put them into actions because of what other people will think, do, or say.
HOW TO DEVELOP PERSISTENCE? –
A DEFINITE PURPOSE BACKED UP BY BURNING DESIRE FOR ITS FULFILLMENT.
A DEFINITE PLAN, EXPRESSED IN CONTINOUS ACTION.
A MIND CLOSED TIGHTLY AGAINST ALL NEGETIVE AND DISCOURAGING INFLUENCES, INCLUDING NEGETIVE SUGGESTIONS OF RELATIVES, FRIENDS, AND ACQUAINTANCES.
A FRIENDLY ALLIANCE WITH ONE OR MORE PERSONS WHO WILL ENCOURAGE ONE TO FOLLOW THROUGH WITH BOTH PLAN AND PURPOSE.
These four steps are essential for success in all walks of life. These steps lead to freedom and independence of thought, along with leading to riches, power, fame, and worldly recognition. They lead, also, to the mastery of FEAR, DISCOURAGEMENT, AND INDIFEERENCES.
So, these are just few of the major things, which one must learn for building persistence, from the great book THINK AND GROW RICH by NAPOLEON HILL sir. Very soon the book summary would also be available. Till then,
KEEP READING, KEEP GROWING!