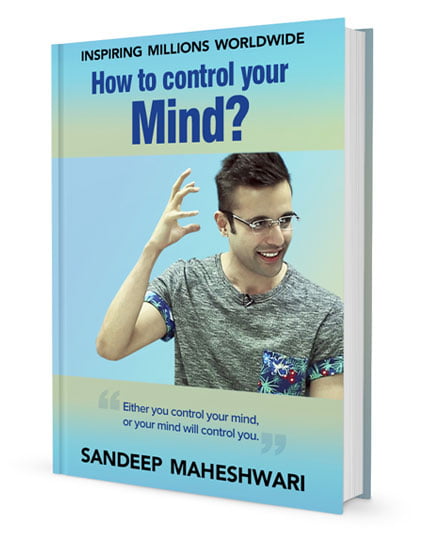 Either you control your mind,

Or your mind will control you.
So here we are with an another summarizarion of a life changing book, 'HOW TO CONTROL YOUR MIND?, by none other than the inspiration of millions, SANDEEP MAHESHWARI.
It is an e-book published on the demand of audience after Sandeep sir went live for the session 'HOW TO CONTROL YOUR MIND?'. This book is the crux of a dialogue between Sandeep sir and the audience. The dialogue mainly points out the difference between the dual level of existence, the MIND and the INTELLECT. It outlines how intellect can be used to direct mind in the right direction.
To understand any particular issue we need to dig deep into that matter, rather than just reacting superficially. We need to contemplate the issue and understand it before reacting.
We are all driven by our old habit patterns, which controls our lives. They have been formed over a continuous process of several years, which cannot be changed in a single day. We need to train our mind and help it distinguish between what is right and what is wrong. We need to develop our intellect, make it stronger, and inculcate the right things into the mind everyday. There are various useless conversations which triggers our mind with wasteful thoughts and weakens our intellect and strengthens the mind. We need to plant correct thoughts into the mind which are somewhere within ourselves only, all we need to do is to search and plant. But on this process there lies a huge problem, which is, our mind has an instinctive nature of feeding on the immediate short-term pleasures which are highly enjoyable (it's okay to head in the direction of pleasure but it should be by doing correct things). It starts with small bad habits giving us meagre pleasure and then gravitates us towards more worse habits once we are bored of the previous one's. And this process continues. We need to accept that these habits are our weaknesses and try to gradually overcome them, don't force our mind and control it rather than train it to overcome these weaknesses gradually. Making an effort to control or stop the mind from diverting is totally useless, as the more we try to control it the more it runs in that very direction, that is the basic nature of mind. This is called the misplaced effort. Effort must be in the form of wisdom, intellect. Whenever the mind is running somewhere, we need to bring the intellect into the picture, bring our understandings, our sensibility, think logically, question our mind. We should never try to completely oppose our mind until our intellect is powerful than our mind. We need to bring gradual change in ourselves. Sharpen our understanding. But don't use the intellect in useless things, discussing something which doesn't have any ending, for example, discussing about two politicians, for some the first politician is good, and for some the other one, it is a never ending debate, but those who are debating when asked about what they understand about their body, Whoosh! a big zero. This is called getting dragged away by mind. This is how we deplete our energy. Train and strengthen our intellect in right things then, we don't have to make an effort to control our mind then. Everyone's mind is very tricky, we need to understand this, as soon it tricks us, we need to bring our intellect in and kick the mind away.
But then the question arises that, how can we strengthen our intellect? The answer is, through right knowledge; in-depth information; facts; reality; science; knowing the difference between right and wrong; hearing, reading and thinking about right things. The more power the intellect becomes, the greater control we have on our mind.
When something good happens, for which we have been waiting for so long, our mind gets carried away, one loses their control, we becomes over-excited and things get messy. This is a weakness of mind. Although getting excited is perfectly okay but getting over-excited isn't. Again, when something worse happens to us, we get irritated, we go crazy, we lose our control, we get angry. This is also a weakness of mind. We need to have a composed mind and stay balanced in every situation. Here, when something worse happens and we are get angry, we need to look at the situation calmly, without reacting in anyway, wait for sometime, and then decide what to react and that too only if it is necessary to react. In one case we are genuinely angry and express it, and in second case, we aren't angry but acting as if we are. This means we are able to understand that anger is rising within us. We are in control. We can see that sensation of anger coming and going. So if we are in control, we won't label our feelings or sensations as good or bad, because we would be in control. It's our choice whether we want these sensations of anger to control us or not. In the same way, for pain also, it is not a pain it is sensation. When we start thinking pain as a sensation, the perspective changes from being scared to be curious and observe it. It is a part of life. Just as pleasurable sensations are necessary, similarly painful feelings are needed too. We can think like this, if there is pain in some part of our body, it is good, as it indicates us that there is a problem in our body and we need to find a solution for it. Similarly our every feelings are just sensations, the stound we understand this, half of our pain will vanish.
We feel extremely pleasurable and miserable at times, but after that everything is neutral (neural state). The biggest art is to understand, 'when we are doing nothing, what we are actually doing?'. When even in that neutral state, we feel great joy from inside, all our stress disappears which we cultivate over years from additional desires, baggage of position, reputation, fame and what not. If we keep our life simple, there will be no stress. We need to sit calmly in neutral state and feel that peace within us, and try to understand what it means to be absolutely contented with ourselves, this is the highest level of existence, and until we think deeply we can't really reach that state. But thing is that, we can't even sit for five minutes calmly, we need something to do, and this because we think that it will give some pleasurable experience or we fear to get some painful experience. And both of these, pleasurable and painful experiences are temporary, what is permanent is that neutral state, that sound of silence. When there is neither pleasure nor pain, there are only two things which exists, one is our consciousness or ourselves and the other is the sound of silence. The sound of silence is something which cannot be take away from us, which cannot be changed even with the greatest force in the universe. The moment we understand this, we will be liberated from all kind of sufferings. If we really understand these magical words, then we will be the king, even if we are a pauper in the eyes of the world, and if we do not understand this simple truth, then even if we are the emperor of the world, we are no more than a beggar.
Now the question is, why do we need to sharpen our intellect?, why do we need to understand and feel that sound of silence?, the answer is, because, there will be a day when despite having earned a lot of money, despite having strengthened our relationships, and despite having achieved everything, there will be a great vacuum in our life, we will be unhappy then, it is that day, when we will be needed to call upon all our wisdom and ask ourselves, 'despite having achieved everything, I am still unhappy. What's wrong? Who am I?'. And the day we ask this question to our own-selves, the game will begin.
So, this is all about the great book 'HOW TO CONTROL YOUR MIND?' by SANDEEP MAHESHWARI, This book teaches us how to live our lives. So, get started, train your intellect, strengthen it, and understand that sound of silence and your life will be at peace. Stay tuned for more awesome summaries like this. Comment below your choices.
KEEP READING, KEEP GROWING!