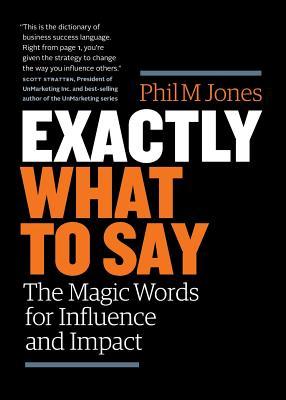 The worst time to think about the thing you are going to say is in the moment you are saying it.
This book, Exactly What to Say by Phil M Jones, delivers tactical insight into the power of words and provides tools to empower success-driven individuals to get more of what they want. This book is tested and approved as a successful communication tool by several prominent people across the globe including, Richard Dixon, Scott Stratten, Rob Brown, Bryan Eisenberg, and many more. This book prepares you for nearly every known eventuality and provides you with a fair advantage in almost every conversation.
The author says that the 'Magic words' are a set of words that talk straight into the subconscious mind, which is the most powerful tool in decision making as it is pre-programmed through our conditioning to make decisions without overanalyzing them. It works a little like computers – it has only 'yes' or 'no' outputs and can never land on 'maybe'. We all rely on our subconscious mind to get almost every stuff done. The magic words described in this book are tried, tested, and proven to deliver results when applied properly. The author advises to have a notebook and a pen as you go through this book, look to create your examples as you read each section, and then make the decision to try them for yourself as soon as possible, getting more comfortable and confident each time you do. Everything the author share may sound simple but does not necessarily mean easy. Get comfortable being uncomfortable.
So, without any further ado, let's get started –
1. I'm not sure if it's for you, but – Author says, opening a statement with the words, "I am not sure if it is for you," causes the listener's subconscious mind to hear, "There is no pressure here". By suggesting that they may not be interested, you naturally increase their intrigue. The real magic, though, is delivered through the final three-letter word of this sequence, a word that typically should be avoided in all conversation: the word, 'but'. The word 'but' negates everything that was said prior, so when you say to somebody, "I'm not sure if it's for you, but…", what the little voice inside your listener's head hears is, "You want to look at this". This rejection-free approach creates a simple outcome – one your listener leans in and asks for more information as they are personally interested, or in the very, very worst-case scenario, they say they will give it a thought.
For example – I am not sure if it is for you, but we have plans on Saturday, and you are welcome to join us.
2. Open-Minded – The author says that almost everyone considers themselves to be open-minded. And knowing that people like to see themselves as open-minded, you can easily give yourself a fair advantage within your conversations. When introducing a new idea, start with, "How open-minded are you?". This will naturally attract people towards the very thing that you'd like them to support. This will make it very difficult for the other person to reject your idea, and at least makes them feel obligated to explore the possibility. It seems that you are giving them a choice when you are heavily weighting the only option, you are giving them.
For example – How open-minded would you be about trying this as an alternative?
3. What do you know? – Author says that to influence others, you must be aware of how to control a conversation. One way to regain control is to move the other person's position from one of certainty to one of doubt. The best way to overcome the, "I know best" mentality of many people is to question the knowledge on which the other person's opinion was founded. Questioning allows the other person to realize their opinion is perhaps not correct, and they can quickly become far more receptive to change. The worst that can happen is that you learn the precise basis of their argument and then position your point in contrast to it. Use words with confidence challenge others and avoid arguments that always end with losers since, regardless of who the loser is, you are unlikely to leave with your desired result. Either everybody wins, or everybody loses.
For example - What do you know about us, our business, and how we do things differently?
4. How would you feel if? – Author says it is the meaning of the word that creates the true basis for understanding all areas of negotiation, influence, and persuasion. The word 'motivation' is derived from two words, the first part is 'motiv-' which is further derived from the Latin word "motivus" meaning 'motive or reason', the second part is '-ation' which is derived from the word "action". So, 'motivation' means "a reason to move" or "a reason to do". Hence, if you want people to do things that typically they do not want to do, first you need to find an honest reason that is big enough. Understanding what reasons are big enough means you have to understand how people are motivated. And people are motivated for two reasons – either avoiding a loss or acquiring a potential gain. The real world tells us that people will work far harder to avoid a potential loss than they will to achieve a potential gain. The second thing you must consider is whether people base their decision on logic or emotion. And the true answer is, in fact, both, it is just that the decision is always made for emotive reasons first. People make a decision based on what feels right first. So, if you can make it feel right, the rest is easy. Understanding these two complex theories is the basis for this set of magic words, and it is all brought together in a preface to a question. By introducing a future scenario with the words, "How would you feel if…?" you allow the other person to time travel to that moment and imagine the emotion that would be triggered at that point. Choosing moments that trigger both positive and negative emotions will allow you to create a truth worth changing for. It will also prepare others to accept your ideas on how to help them achieve success or avoid loss. What you then create a conditional future-facing scenario, something they can see for themselves, and get excited about their future and they get a reason to move either towards the good news or away from bad news.
For example – How would you feel if this decision led to your promotion?
5. Just Imagine – The author says, every decision human makes is made at least twice. The decision is first made in your mind hypothetically before it is ever made in reality. People decide based on the images they have in their minds, so if you can place pictures in people's minds, you can use the results of those images to influence their decisions. Creating pictures in the mind is done by telling stories. When you hear the words like, "Just Imagine", the subconscious mind kicks a switch and opens up the image viewer, and it cannot help but picture the very scenario you are creating.
For example – Just imagine how things will be in six months once you have implemented this idea.
6. When would be a good time? – Authors identify that one of the biggest reasons your ideas fail to get heard is that others tell you that they don't have time to consider them. So, by using the preface, "When would be a good time to…?" you prompt the other person to subconsciously assume that there will be a good time and that no is not an option. Also, this kind of direct question prevents them from telling you that they have not got time and, as a result, helps you avoid one of the biggest objections faced. And when you do get around to following up or speaking again at the agreed time, please do not ask them what they thought about what you asked them to look at, this makes it easy for them to talk bad, instead swap the question with, "So, what do you like about it?" and watch them list the goods.
For example – When would be a good time to speak next?
7. I'm guessing you haven't got around to it – The author says, when you are fearful that somebody has not done something, instead of asking them how that thing went, you may want to start the conversation slightly differently. Open up the conversation by allowing the other person to save face, but also by preventing them from using any of the excuses you think they might use. This leaves them with nowhere to go in the conversation other than where you would like them to go. The reason they cannot use the excuses is that you have been bold enough to start the conversation in a way that suggests they were about to use the very excuse they had prepared: by prefacing your question with, "I'm guessing you haven't got around to.." They respond in either of the two ways: either they feel proud that they have done what they had promised, or they are embarrassed that they haven't and make a new promise to put right that fact. By using the words you are fearful they may give you back in the other direction, you create a scenario that completely disarms them. If you say to someone, "I'm guessing you haven't got around to deciding on this yet" and they say, "No, we are still thinking", you can open up the negotiation. If, instead, they say, "No, we have, and we've made a decision", you can say, "Great, when are we ready to get started?". By pushing for the negative scenario, you get them to rise to the positive or to the positive or to tell you how they are going to fix the thing they said they were going to do because most people are people of their words and feel pretty bad when they are called out for it.
For example – I'm guessing you haven't got around to looking over the documents yet?
8. Simple Swaps – The author says, following a presentation, the question people reach for is, "Do you have any questions?", asking this creates the subconscious suggestion that the other person should have a question, and if they don't, it makes them feel peculiar and perhaps even a little stupid. This encourages them to leave the decision-making conversation and go away to think about it. A simple change of wording moves this from out of your control to completely in your control. Swap the phrase, "Do you have any questions?" with the improved, "What questions do you have for me?". The minute you assume an outcome, the easiest response for them to give is that they have no questions. What does this mean? It means they have made a decision and you are perfectly positioned to ask for it. This change of wording typically results in you gaining that response or in the specific questions they need answers to. Either way, you are far closer to a decision, and you avoid the dreaded, "I need some time to think about it." The next change is so simple and profound, it works whether spoken, written, by text message, works everywhere. Consider a scenario in which you have met someone and would like to have a conversation with them at a later time. A mistake many people make is asking, "Can I have your phone number?". When you ask someone, "Can I have your..?" it creates permission-based resistance in the other person, which makes it harder to get what you hoped for since a 'yes' or 'no' response is required. It can be seen as an invasion of privacy. Instead, asking the alternative question, "What is the best number to contact you at?" results in people effortlessly giving you the information you requested. Changing a couple of words can make all the difference in the results you get from your conversation.
9. You have three options – The author says that the words, "As I see it, you have three options" help the other person through the decision-making process and allow you to appear impartial in doing so. You are presenting them with their options, yet you now have the opportunity to display them in a way that favors your preferred choice. Imagine you are looking for someone to join your business and they are on the fence about it. So you make the statement, "So, you are currently in a job that you kind of hate. You are not enjoying it so much, the hours are long, it's keeping you away from your family, and the money is nowhere near what you would like it to be. And as I see you have three options. First, you could look for another job, work on your resume, go through interviews, and work through the entire process again perhaps to find another employer offering a similar package and more than expecting the same kind of work for the same return. Second, you could do nothing, stay at exactly where you are right now, and accept it. Or third, you could give our business a try, work it alongside what you are doing right now and see how far you go. So, of these three options what's going to be easier for you?". Finishing with these set of magic words means they have to pick one of these options. "What's going to be easier for you?" means that the laborious new job option is off the table. Since staying put was already off the table, the only option they have left is the easy one – the one you want them to pick, this makes the path least resistant for them. So, start with, "You have three options," and finish with, "What's going to be easier for you?" and watch people effortlessly pick the choice that previously they were finding so difficult to make.
10. Two types of people – The author says, many do a great job of getting people interested in something, yet it is the final moment of helping people to decide that creates the action that drives the result, which is the toughest part. Help people choose by removing some of the choices and creating easy options. The decision becomes easier when the choices are polarizing. Your goal is to create a statement that presents choice and then allows the other person to pick. Asking people to decide for themselves who they are with the magic words, "two types of people" prompts a near-instant decision. The second person hears, "There are two types of people in this world", the little voice in their head immediately wonders which one they are, and wait with bated breath to hear the choices. Now your role is to deliver them two choices and make one of them stand out as the easy option.
For example – There are two types of people in this world, those who resist change in favor of nostalgia and those who move with times and create a better future.
11. I bet you're a bit like me – The author says, if you use this preface ahead of a scenario you would like people to believe to be true, expect them to agree with you comfortably, wholeheartedly, quickly, and easily. You can use this set of words to help avoid many common objections by gaining full agreement with something they may otherwise have tried to use as a future excuse. Use these words while holding eye contact with the other person, and just watch them nod back at you.
For example – I bet you're a bit like me, you are a busy person who's always juggling to get everything done.
12. If… Then – The author says when conditional statements like, "If…Then" are made, there are chances that the other person believes you. These statements hold power over our beliefs and actions. As a consequence, creating a scenario using the preface "if" and adding a second scenario with the preface "then" means that people are highly likely to believe the outcome.
For example – If you decide to give this a try, then I promise you won't be disappointed.
13. Don't worry – What the author loves best about this simple set of words is the power they have on people who are nervous, apprehensive or showing a sign of concern. Say the words, "Don't worry", and the tension just pours out of them as they become more relaxed. This is particularly useful in high-stress scenarios when confronted with someone panicked or just too comfortable to put someone at ease. The minute somebody is indecisive, hold your posture, stay relaxed and give them the feeling that you have this under control and can help them navigate the next step.
For example – Don't worry, I felt just the way you feel right now before I started, and look at me now.
14. Most people – According to the author, indecision is the biggest thing that stands in the way of progress, and this set of words can help jump people out of procrastination in a flash. People generally take confidence from the fact that people like them have made a decision before them and that the decision has worked out just fine. Everyone likes to follow others and trust that there is safety in numbers. Also, sometimes people need to be told what to do, but without their permission, it can sound rude. These two factors create the power in the application of magic words "most people". Now when you are faced with a moment when what you want to say is, "Look, what I think you should do is this," but you cannot say that because it is kind of obnoxious, instead use the words "most people" and watch how it changes everything. When you tell people what most people would do, their subconscious mind says, "Aha, I'm most people, so if that is what most people would do, then perhaps that is what I should do too."
For example – What most people do is complete the forms with me here today. You then receive your welcome pack and we get you booked in for a lunch.
15. The good news – The author says that these words provide you with a tool to spin a negative into a positive using a technique called labeling. The moment you apply a label to something, it becomes almost impossible for the other person in the conversation to shed that label. By prefacing things with, "The good news is.." you cause people to face forward with optimism and zap any negative energy out of the conversation. If somebody is questioning their ability to do something then you can respond with, "Look, the good news is that we have dozens of people who were in the same situation when they first started, and they have gone on to be successful and are here to support you too." You can use this same principle with two more words when faced with people who give excuses or reasons as to why they are not ready to move forward. When somebody tells you a reason why they do not want to do something, respond by saying, "That's great". When somebody says, "I could not do this because of this," say, "That's great, you have found out another way that doesn't work," and watch how they look at you differently. You have changed the way they think. By bringing more positivity to the situations with, "The good news is…" and responding with, "That's great", you soon start shifting the balance in people's thoughts and allow them to question themselves towards a better outcome and behavior.
16. What happens next – The author says that, when you want them to commit, but following all of this relationship building and imparting of knowledge, the conversation grinds to a stop with nobody leading the actual decision. In these consultative discussions, it is your responsibility to lead the conversation, and following the sharing of the required information, your role is to move it towards a close. You need to let them know what happens next, so the magic words you require are precisely that: "What happens next it…". This is a perfect way of linking all of the information they need to make a decision. So, what you do is create a scene. You do not ask them what they would like to do; you just tell them what happens next. For instance, "What happens next is that we are going to take a few moments, complete all the details and everything will be ready for you in the quickest possible time. So, in terms of registering your details, what is the best address for you?". Finishing this process with a question that is effortless to answer is the key to gaining a rapid response and a positive outcome. Having a concise and constructive "what happens next" conversation will mean that you successfully close far more conversations in the first meeting and make more happen at the moment that you have with the people.
17. What makes you say that? – Author says that to overcome an objection, you must first understand what the objection is. There is always a possibility that an objection is an alternative to saying, "No thank you" or a way of pushing the decision away for another day. Success in negotiating is all about maintaining control in a conversation, and the person in control is always the person who is asking the questions. So, by treating every objection you face as nothing more than a question, you can quickly regain control of the conversation by asking a question in return. But, the worst thing you could do when an objection is raised is to respond with your counter-argument and make statements that disapprove their current opinion. Instead, tackle each of these common objections effectively by being inquisitive about them and asking a question in the opposite direction. This shift of control now leaves the other person obligated to give an answer and fill in the gaps in their previous statement.
For example – The customer says, "Really, I need to speak to somebody else before deciding this." You say, "What makes you say that?"
18. Before you make your mind up – The author advises that, when you find yourself in a position in which the other person is leaning towards not choosing your idea, you can quickly move them back in your direction by prefacing your next action with this set of magic words: "Before you make your mind up…". This shift in a vantage point then allows you to add alternative information to support your idea and increase your influence over their decision.
For example – Before you make your mind up, why don't we just run through the details once more so that you can know what it is that you are saying no to?
19. If I can, will you? – Author says that, when an objection situation is created by the other person delivering an external condition that is affecting their ability to move forwards with your idea, they have removed themselves from the process and abdicated responsibility to something out of their control. You have the power in these situations to isolate this condition and remove the barrier by responding with a powerful question that eliminates their argument. This is achieved by using the question structure, "If I can…, then will you….?". And even if you are still not obligated to meet the condition presented, but you will be in control of what happens next. You may receive further reasons and honesty from the other person that prevents you from moving forwards, or you may find that you gain their agreement. With their agreement to the condition, you can now present your best option to them and will be far more likely to reach your desired outcome.
For example – Suppose you want your friend to join you for the party but he is hesitating to as his car is under repair, so you can say, "If I can pick you up and drop you off at home, then will you be able to be ready for 7 pm?"
20. Enough – The author says that it's all about making it a lot easier for the other person to reach a little higher than they may have done otherwise. In every set of circumstances in which you involve yourself in the decision-making process, you have the power to influence the actions of others. Customers love to be led through the right things to do, and assisting people in making their minds up is a skill that will help you reach the highest places. Understand that if you offer someone the choice between two numbers, you are likely to receive a fifty-fifty response. Yet a direct question involving only the larger option and the magic word "enough" swigs those odds far further in your direction. Integrating this principle into all conversations involving your business can have a huge impact on your results.
For example – Would the servicing for every four weeks be enough for you?
21. Just one more thing – The author says that this set of magic words allows you to create that opportunity on your way out of a conversation. Instead of leaving with nothing, you use these words for a further attempt. Using the magic words, "Just one more thing" keeps the conversation alive and can help you avoid leaving with nothing. Suppose you meet with someone to introduce them to your ideas and look to gain their commitment. They kind of like you and your ideas, but they are not so sure, and the meeting is coming to a close. You thank them for their time, pack your things up and head for the door. At this point you turn back to them with the words, "Just one more thing". When they think that they have got away with not buying anything, you introduce the simple idea, something that is easy for them to try and bring them into your world with the far smaller decision than you had previously asked for.
A favor – According to the author, this is a simple yet powerful set of magic words that you can use to get somebody to agree to do just about anything before they even know what the thing is. The request of favor almost always gains a unanimous agreement from the recipient and the worst response possible is still a conditional yes, like, "Depends what it is". The author believes that there are three main reasons people fail to ask others for referrals –

They are too lazy and cannot be bothered
They do not know when to ask
They do not know how to ask
There are dozens of moments when you can ask for a referral when it comes to the timing. When people are happy with what you have done for them, there are some simple words that nearly always feature: they express their happiness with the words "Thank you". These words can easily trigger feelings of pride and self-worth in you. All this means is, the next time you hear the words "Thank you" from your customer, use that as your cue to ask for more. Now that you have the timing, let's next determine how to ask. So they said, "Thank you" which provides you with your cue to ask your first question: "You couldn't do me a small favor, could you?", this simple question gains an almost certain agreeable response with the rest of your request.
When they have thought of somebody, you need to know where to go next. You will probably see in their body language when they thought of somebody. At this point say, "Don't worry, I'm not looking for their details right now, but who was it that you were thinking of?". This instantly takes the pressure off and the "but" helps them to recall only the final part of the sentence.
"You couldn't do me a further favor, could you? (assuming they said yes for the first time) Next time you see Mark (let the person they were thinking of), could you share with him a little bit about how it was doing business with me and see if he's perhaps open-minded about taking a phone call from me to see if I can help him the same way I helped you?". Assuming your customer almost agreed to this. "Would it be fine if I gave you a call next week to find out how to chat with Mark went?". They will most likely, again, be agreeable. You will then call what you said you would and ask, "I'm guessing you didn't get around to speak to Mark?". As a person of their words, either they will proudly say that they have spoken to Mark, or they will be embarrassed and tell you how they will go on to complete the introduction.
The magic in this, the crazy irony, is that you slow the process down, but you speed up the outcome and end up having a conversation with people who expect your call, and look forward to hearing from you and are grateful.
23. Just out of curiosity – The author believes that, if you have delivered your part correctly, then the other person at least owes you a little more transparency regarding their thoughts. The words the author use are, "Just out of curiosity", and they can be used as the perfect preface to many a direct question. Asking big, brave questions is exactly what you need to do to become a professional mind-maker-upper.
For example – Just out of curiosity, what is it specifically you need some time to think about?
Now with all these words to consider, you must be aware that reaching for the right words at the right time can make all the difference. There is another thing, which is not necessarily a magic word. It is something that can make a huge and profound difference to your level of success when you impart your knowledge and wisdom to others. One worry most people fear is being caught out when it comes to product knowledge about their business and industry and the need to have fantastic answers for every question. But, the thing is, you need to just dive into an answer that is simple, effortless, positive, and uplifting, and watch how it stuns people into a positive decision.
Everything we have learned from this book is simple, is easy to do, and, better still, works. What it does not do, though, is work with all of the people of the time. It just works with most people most of the time. There is a chance that what you are doing now is working with some of the people some of the time, so please do not try this once and tell them that it did not work. Try it over and over again until it becomes natural. Bring it into everyday language, and the compound effect of those tiny improvements and subtle language changes, the ability to know exactly what to say, and the insertion of a few magic words, could be just the tonic that takes your ambition, dedication, and drive – with a few skills sprinkled on – and moves you from counting conversations to making conversations count.
Phew! this was all about this amazing book, EXACTLY WHAT TO SAY by PHIL M JONES. Honestly, speaking, summarizing this kind of great is beyond one's capability because summaries cannot give that same vibe as reading that book could, but have tried my best to pour the knowledge in minimum words so that those who cannot afford to read the whole book, can at least get the knowledge from the summaries.
Soon, will come up with new summaries, till then –
KEEP READING, KEEP GROWING, AND KEEP SUPPORTING!